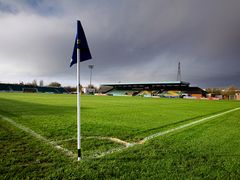 Newport Stadium
Newport County v Bath City
Newport county assistant manager Jimmy Dack expects a spirited exchange in Monday's clash with fellow strugglers Bath City.
The Exiles, who lost 1-0 to Fleetwood on Monday, are 19th in the Blue Square Bet Premier standings, just a point above the drop zone and eight ahead of bottom-placed City.
Dack, while concerned by their form, backs his men to get the job done at Newport Stadium.
"There is no hiding here, we're in a relegation scrap and we will be all guns blazing come Boxing Day," Dack told his club's official website.
"It's no good thinking about the return game a few days later, we will be totally focused on the home game. Bath will look at it as a chance to make some ground up, but we need to put this game to bed."
Dack insists his players are desperate to ease their relegation concerns.
"I can assure everybody at the club and the supporters that the players are hurting at the moment. You see it in their eyes, but they have given everything they got and anybody who saw the recent game against Fleetwood can see that," he said.
"It's hard when a team is not playing with confidence because even the most basic pass or skill becomes a difficult thing to carry out, but both Justin (Edinburgh) and I are more than confident this group off players will carry the job through."
In Newport team news, key midfielder Sam Foley will serve the final match of a three-game ban.
Striker Robbie Matthews injured his groin against the Fishermen but fellow hitman Jake Harris is back from a one-month loan at Evo-Stick Premier side Frome, where he netted four goals in as many games.
Meanwhile, Bath boss Adie Britton hopes his men - who drew 1-1 with Kettering last Saturday - take their chances on Boxing Day.
"If there is one major issue with our season, not taking our chances is it," he told This is Somerset.
"We should have scored a lot more goals than we have - ten more would have put us in a comfortable position.
"It was the same problem at Kettering. I looked at the stats after and we had 14 shots to their eight."
Britton suffered a scare when Marley Watkins and Sekani Simpson were involved in a car accident on Tuesday.
This is Bath reported the pair were on their way to indoor training at Thornbury Leisure Centre when their vehicle was involved in a collision on the M32.
Fortunately they were left unscathed and are set to feature in the upcoming tie.
Posted: Friday , December 23, 2011