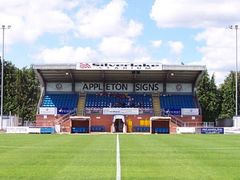 Eastleigh
Ground Name: Silverlake Stadium
Capacity: 3000 (Seats 521), 1650 covered
Address: Ten Acres, Stoneham Lane, Eastleigh, Hampshire, SO50 9HT
Telephone No: 023 8061 3361
Pitch Size: 112 x 74 yards
Team Nickname: The Spitfires
Club Founded: 1946 (as Swaythling Athletic Football Club)
Year Ground Opened: 1957
Home Kit Colours: White & Blue
Official Web Site: www.eastleigh-fc.co.uk
Twitter: @eastleighfc
What's The Ground Like?
Although the ground has been opened for over 50 years, it looks as if has received some recent investment as three sides look fairly new in construction. Overall a tidy looking small ground that has plenty of potential for further development. On one side is the Grandstand, which typical of this level is your small, raised covered seated stand that is located astride the half way line. However it does have the benefit of good views of the action as there are no supporting pillars. At one end is the club offices and Social Club, which in front is a hard standing area behind the perimeter fence of the pitch. The other two sides are again hard to label as terraces as such as they are mostly flat standing areas with small covers to the rear. The stadium has a set of eight small floodlight pylons that run down the front of each side of the pitch.
Where to Eat & Drink?
The ground is a bit in the 'middle of nowhere'. So you'll need to rely on the sizeable Club house at the ground and club catering.
How to Get There by Car & Where to Park
Leave the M27 at Junction 5 and take the Stoneham Lane exit towards Eastleigh.
You will pass the back of ground on your left. Continue to the end of the road and at the roundabout go completely around the roundabout to come back on yourself, back towards the motorway. Just as you pass the Concorde Club on your left turn right. The entrance to the ground is around the bend on the left. There is a good sized car park at the ground which holds 500 cars, which is free.
Nearest Train Station
Nearest train stations are Eastleigh or Southampton Airport Parkway. Both about a 20 minute walk.
Admission Prices 2011/12
Adults: £12
Senior Citizens: £7.50*
Students: £7.50*
Under 16s: £4*
Under 12s: Free
Stand: Free
*Proof of date of birth required for Senior Citizen/U16s or copy of NUS card required for Students
Record Attendance
3,268 v Southampton
Friendly, July 2006
Posted: Friday , August 10, 2007