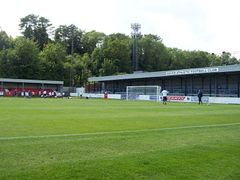 Dover Athletic
Ground Name: The Perrys Crabble Stadium
Capacity: 6,500 (1,500 seats)
Address: Lewisham Road, River, Dover CT17 0JB
Telephone No: 01304 822373
Team Nickname: The Whites
Club Founded: 1983
Year Ground Opened: 1931
Home Kit Colours: Black & White
Official Web Site: www.doverathletic.com
Fans Forum Web Site: www.dovorian.co.uk
What's The Ground Like?
The stadium is known for its unusual location, being set into the side of a hill. It has two seated stands and two covered terraces. The Main Stand, which has been in place since 1951, occupies the length of one side of the pitch and has a roof supported by numerous columns, which obscure the view for some fans. Identical covered terraces for standing spectators are behind both goals, which also suffer from an obstructed view. The small Family Stand occupies a portion of the side opposite the Main Stand. Unlike most football stadiums, the club directors' lounge is set atop one of the stands. In December 2009 the Football Association gave the stadium's facilities an A grade, meaning that it meets the minimum standard for entry to the Football League.
How to Get There by Car & Where to Park
From outside of Kent, find your way to the M25, then take the M2/A2 (following the signs to Canterbury, then from Canterbury follow signs to Dover) as far as the Whitfield roundabout (there is a McDonald's Drive-Thru on the left).
Take the fourth exit at this roundabout, down Whitfield Hill. At the bottom of the hill turn left at the roundabout and follow this road until the first set of traffic lights. At the lights turn right (180 degrees down the hill) and follow the road under the railway bridge, the ground is a little further up the road on the left.
There is no parking for supporters within the ground, although parking is available in the rugby ground, which is just inside the main entrance - stewards will direct you.
If you have to take the M20/A20 leave the A20 in Folkestone (the exit immediately after the tunnel through the hill) and travel through the Alkham Valley (turn left at the roundabout at the end of the slip-road and then left again, following the signs for Alkham) which will eventually take you near Kearsney train station (turn right into Lower Road just before the railway bridge, before you get to the station).
Nearest Train Station
The main railway station in Dover is Dover Priory which is approximately 2 miles from Crabble. The closest station to Crabble is Kearsney which is about a 10-15 minute walk from the ground.
Admission Prices 2011/12
Adults: £12
Over 60's: £9
Under 18's: £6
Under 11's: £3
Transfer to the seated stands:
Adults: £1.50
Over 60's & 11-16 Years: £1
Under 11's: Free
Record Attendance
4,186 v Oxford United, first round proper of the FA Cup, 16 November 2002
Posted: Friday , July 23, 2010