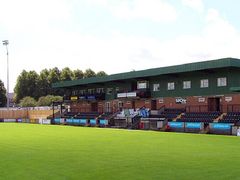 Salisbury City
Ground Name: The Raymond McEnhill Stadium
Capacity: 5,000 (Seats 500)
Address: Partridge Way, Old Sarum, Salisbury, Wiltshire, SP4 6PU
Telephone No: 01722 776655
Team Nickname: The Whites
Club Founded: 1947
Year Ground Opened: 1997
Home Kit Colours: All white
Official Web Site: www.salisburycity-fc.co.uk
Twitter: @SalisburyFC
What's The Ground Like?
A new looking ground that has been further developed since it was first opened in 1997. The first thing that strikes you about the stadium is that it is sunken, meaning that you enter at the back of the stands and descend into it. On one side is the Main Stand, which not really a stand as such. Instead the rows of seating have been located in front of the Clubs Office building, with the roof of that structure being extended outwards somewhat to try and give some cover. The team dugouts are located in front of this area. On one side is the In-Excess covered terrace which extends around one corner of the ground and along one end. Whilst opposite is an open terrace which is allocated to away supporters. The other side of the ground, known as the 'Hop Back Side', is a strange looking affair, with two small pockets of covered seating sitting astride a large advertising hoarding for a local brewery, that also incorporates a small electric scoreboard. The two outer wings of this side of the ground comprise of open terrace. The stadium is completed with a set of four modern looking floodlights.
Where to Drink
The Club does have its own Club House Bar. Which is just as well as there isn't another pub in easy walking distance as the is literally in the middle of nowhere next to a green field. The nearest pub is the Harvester, which is on the A435 going towards Salisbury opposite to the 'Old Sarum'. It is around a mile away.
How to Get There by Car
The ground is situated north of Salisbury, near to the A345. On entering Salisbury follow the ring around the city centre, until you reach the roundabout with the A345 (Castle Road). Head along the A345 towards Amesbury. You will pass the entrance to Old Sarum on your left and a Harvester on your right. At the next roundabout turn right along Portway and at the mini roundabout bear left. Take the next left into Partridge Way. The entrance to the ground is at the bottom of this road. There is a large car park at the ground (fee payable).
Nearest Train Station
Salisbury station is located just over three miles away from the stadium. It is served by trains from London Waterloo & Bristol Temple Meads. There is a dedicated bus service running from the station on Saturday matchdays.
Admission Prices 2011/12
To be confirmed
Record Attendance
3,100 v Nottingham Forest
FA Cup 2nd Round, December 3rd 2006
Posted: Monday , June 13, 2011