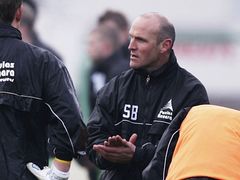 Steve Burr
Kidderminster v Mansfield
Kidderminster's play-off hopes lie in the balance ahead of the visit of third-placed Mansfield this weekend.
The Harriers, who recently lost 1-0 at Luton Town, are two points behind the fifth-placed Hatters, with the Blue Square Bet Premier season drawing to a close on Saturday.
Naturally, hosting boss Steve Burr is desperate for maximum points at Aggborough.
"I saw them (Mansfield) play at Wrexham on Friday night and was very impressed. They are playing with a lot of confidence and it will be a difficult game for us on Saturday," Burr told his club's official website.
"What we do know about Saturday that a win gives an opportunity to get into the play-offs - whatever happens elsewhere will happen."
Luton, who drew 0-0 with Gateshead on Tuesday, visit newly crowned league champions Fleetwood Town in their final fixture.
In Kidderminster team news, midfielders Jack Byrne and Kyle Storer are doubtful with hamstring complaints, as is top scorer Nick Wright with a knee problem.
Meanwhile the Stags, recent 2-0 victors over Wrexham, aim to take some momentum into next Wednesday's first leg play-off at either Luton Town or York City.
Club boss Paul Cox admits tomorrow's game is not his top priority but indicated he is unlikely to make wholesale changes.
"There are a lot of options tomorrow and a lot I have to consider. I do not want to lie to anybody; our main focus is going to be on Wednesday night," Cox told This is Nottingham.
"But you can take your eye off the ball if you rest too many players and then go into the play-off game in a half-hearted manner because the players would not have had that match mind-set, that mentality and the physicality (a few days earlier).
"We do not want to go stupid, we have to give the fixture the respect it deserves and go to win it. We could have made wholesale changes against Wrexham, but we didn't.
"We rested one or two that needed it and we will do that tomorrow."
Posted: Friday , April 27, 2012