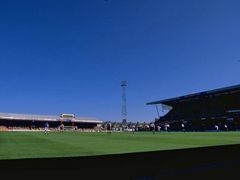 Blundell Park
Grimsby Town v Tamworth
Grimsby Town joint-manager Rob Scott hopes his side show their 'belief' against Tamworth on Saturday afternoon at Blundell Park.
The seventh-placed Mariners head into this coming weekend's clash on the back of a 3-2 defeat at play-off hopefuls York City last time out.
Scott's side hopes of making the play-off themselves have stuttered with their failure to string together two successive wins in a bid to build some momentum.
But the former Rotherham United defender backs his troops to bounce back at home and re-energise their floundering campaign.
"One thing we have been told from people who watch on a regular basis is that this team has shown more belief," Scott told the Grimsby Telegraph.
"We are obviously biased, but we both think a hell of a lot has changed around the place.
"There is more positivity in the squad and they put a lot of effort in every game.
"If you are going to compete with York, Wrexham and Fleetwood then you need to keep improving.
"For me, we are not quite there yet but it's come a long way in 12 months. (And) I hope the fans see that.
"I think they do because there is a change of attitude from them to us and the team as well that is noticeable."
The 15th-placed Lambs, meanwhile, are still without a win since their 2-1 home victory over Newport County on February 21.
Boss Marcus Law had to watch on in frustration last Saturday as his side slumped to a 1-0 disappointment to Mansfield at The Lamb Ground.
Yet, the Lambs tactician remains upbeat and believes his charges just need to overcome the hiccups in their path en route to success, telling the Tamworth Herald: "We have lost a couple recently but we have been on a tough run fixture wise.
"We have played Mansfield and lost and drew at York before that, and both of these sides are going for the play-offs.
"We only conceded one goal in those last two games - I think that is a reason to be positive.
"We have got Grimsby and Kidderminster coming up now. The games do not get any easier. Grimsby will be a tough game."
Law added: "Our aim this year has been to try and finish as high up in this league as we possibly can, and in that time, start making inroads into what we want to do next season.
"It has been hard at times, not being able to get exactly who I want in, when I want, but that is football.
"We have had injuries to deal with as well, but we are heading in the right direction."
In team news, Frankie Artus may come into the reckoning for the Mariners after a spell out of the squad, while for the Lambs, 19-year-old Connor Taylor's solid performance last time should keep in contention.
Posted: Friday , March 16, 2012