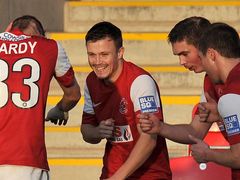 Andy Mangan
Fleetwood 1-0 Cambridge
Fleetwood Town secured a two-point lead on top of the Blue Square Bet Premier standings with victory over Cambridge United on Saturday.
The home team were quick off the mark at Highbury, scoring in the third minute after Jamie Vardy found a way through for Andy Mangan, who slotted the ball in with ease to beat Danny Naisbitt.
Fleetwood looked threatening with a good attack formation, but the U's came close when Michael Gash took a chance from the edge of the area only for his effort to hit the post.
Midfielder Luke Berry was then denied a seemingly certain goal as Scott Davies managed to get one hand on his effort from close range.
Players were greeted by a heavy hailstorm as they came out for the second half, but it did not deter the U's, who took control of the game after creating another chance for Berry.
The playmaker came close to finding the net as he headed wide from Rossi Jarvis's curving corner.
The Fishermen clawed their way back to take control of the game after producing a good spell of pressure midway through the half and Vardy was left kicking himself for not doing better after being gifted a few chances to stretch his side's lead.
Davies was in brilliant form for the home side and showed his class as he kept the Fishermen in the game by saving a rasping drive from Kevin Roberts.
As the game drew to a close, Fleetwood substitute Jamie Maguire had a header go in and was convinced he made it 2-0, but the goal was disallowed after he was flagged offside.
Fleetwood bookings: Cavanagh.
Cambridge bookings: Jarvis, Hughes.
Referee: Bratt.
Att: 2,068.
Posted: Sunday , February 19, 2012